Wait...What did you think I meant?
With each passing day, teens are given more opportunities to express themselves creatively. The internet is full of limitless ways for today's teen to be creative. Blog away, you can say whatever you want on your own blog and not only is it fun and easy, but it's free too! Being the astute young person that you are, (I mean you're reading this blog right?) I'm sure you're already aware of this. My point is go crazy with it. Think outside of the box. Don't try to copy other people's blogs. Do what you want to do and what fires you up the most.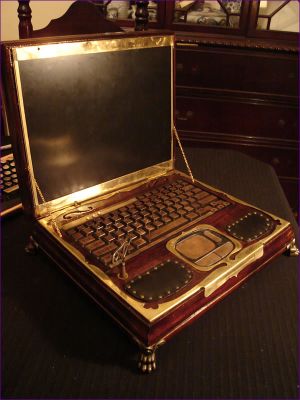 I'm going to take this moment to showcase one of my favorite creative oddities on the web. While I hate leading you to another site, check out
http://brassgoggles.co.uk/blog
This wonderful little blog is made by some good ole chaps in the United Kingdom. The focus is to highlight people's creativity from around the world when it comes to all tangible things steampunk. Here you will see home made machines, fashion, art, toys, and generally anything and everything that can be converted to look steampunk in style. By the way, yes this laptop works.
In my latest young adult short stories, tentatively called "The Young Alchemists", I too celebrate the creativity of teens (With a steampunk emphasis of course) through my characters Knox Wallingford, and Lizzy Strauss who themselves are creative diamonds in the rough. As amateur inventors these two unlikely friends find common ground not only in their idols but in their love of making things.
So go forth! Make something, a blog, a website, or an organization to petition the local government to get out of school early. Whatever you do, always make sure it is you and hopefully you have found some of this week's blogs on Teen Seen not only entertaining, but inspiring.
Nick Valentino
http://nickvalentino.blogspot.com