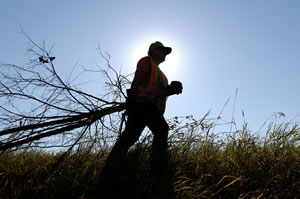 A boy called "Choppers" lived across the street from me when we were growing up. We called him Choppers because he loved to break off huge sticks and branches from trees and spin in circles. Over and over again, all summer long, you could see him spinning in his yard.
Of course I should have known better, but he always listened to me in the past. As I came down the sidewalk on my bike, I called to let him know he should stop spinning this huge branch. Either he didn't hear me, or he couldn't stop in time, but I got whacked in the face.
I saw red. Truly! Blood seeped into my eye and I could barely see to get my bike across the street. I dashed inside, bawling and hollering. Turns out he ripped my eyelid nearly off. A thin bit of skin kept it attached to my eye.
While we waited for the taxi, I gave away my favorite bookmark to my best friend. My mom had me lie down with a wet towel over my damaged eye. Crying, my friend and I told each other good bye. Mom snorted and said we'd be back in a few hours.
I ended up with stitches that looked like I had a double row of eyelashes for a while. Luckily there wasn't any nerve damage or scar left behind. Now when ever I hear or read anyone saying they saw red, I'm always reminded of that summer day and those stitches!
Warmly,
J.R. Turner
J.R. Turner is the author of the Extreme Hauntings series. The first book, DFF: Dead Friends Forever is available at Amazon.com, Kindle, Fictionwise, and Echelon Press.com